What is the most pleasant way to spend the National Day? How about having your genitals groped? Bonus: if you are a guy and the person doing it is a blond female. OR you are a girl and he is a man in uniform.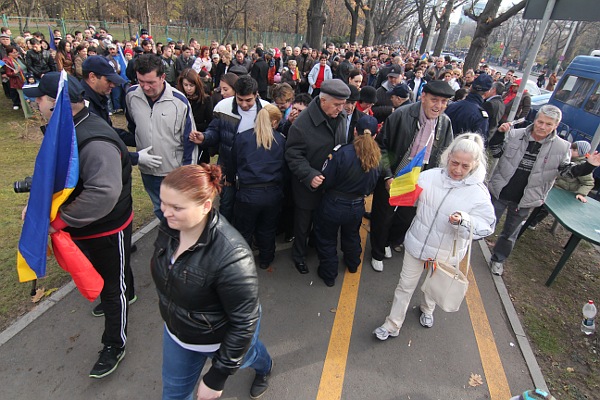 Long story short: 1st of December is the Romanian National Day and traditionally there is a big military parade in Bucharest at Arcul de Triumf, which is admired by a lot of people (I heard around 15.000 were this year). Less traditional, this year the security was a lot tighter.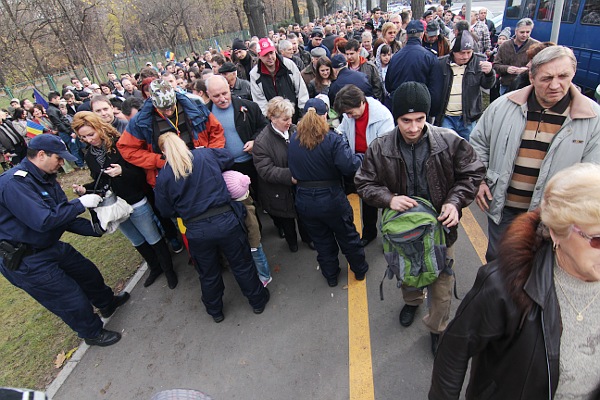 In all the access routes, there were control filters: some gendarmes in uniforms were controlling everyone: men, women, children, old people by groping the bodies and looking inside the bags (TSA-style pnly low-tech).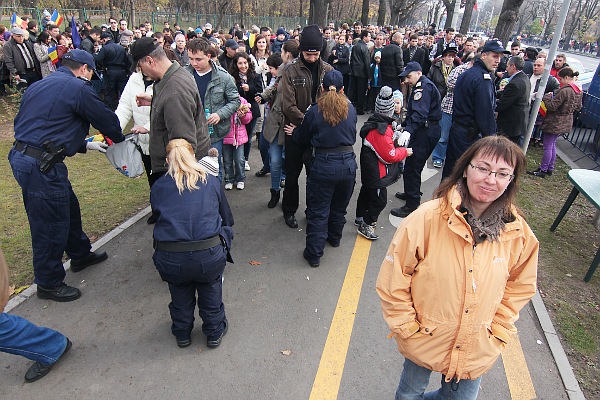 The gendarmes were both male and female and the intention probably was for same-gender groping only, but with such an amount of people it was chaos: everybody groping anyone. I saw an old woman protesting, who escaped only with a purse-check and an young man unhappy he was groped by a guy gendarme, not by the blond women gendarme.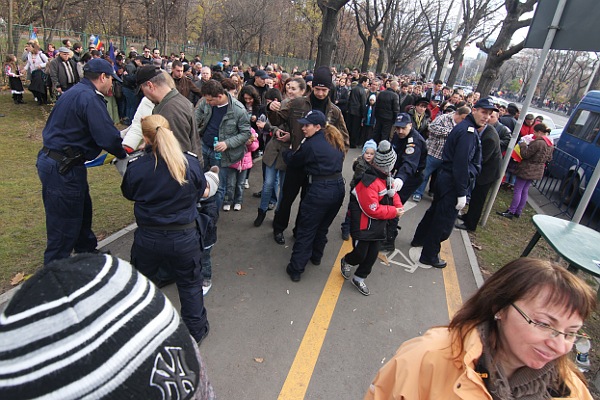 After this filters, there were some guys in suits watching, probably the SPP amd some more… After passing the check I stopped, turned around to shoot the groping, but somehow my view was blocked all the time. Breathing, I understood: there was a "normally" dressed guy, most likely a SPP undercover who was moving in such way to be in my view all the time while maintaining a casual appearance. Time to change my lens, put a wide one, extend my arm and shoot from above his head. He tried to extend his arms too, realized is ridiculous, exchanged a few words with a suited guy then dropped his arms. I continued shooting while asking him "is there any problem?" and when done left with "see, there is a solution for every problem".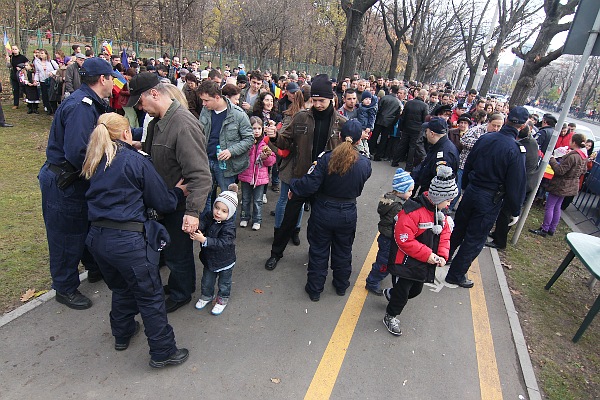 On the positive side, when waiting in queue for the filter, I was asked if I have a press pass (had my biggest lens mounted) – don't know if that would have me skip the filter or just go in front. Another fellow photographer was asked to take a shoot to prove the camera is working – not sure if because she had a red Nikon DLSR which the gendarmes had doubts is a real camera or because it was early in the morning, before the gendarmes got bored.
This work is licensed under a Creative Commons Attribution-Share Alike 3.0 License.